SYLACAUGA, Ala.- A distinguished brand in the fertilizer industry produced right here in Sylacauga has been purchased by Harrell's, a national leader in supplying innovative and effective agronomic products to professional growers.
The sale, which was completed Friday, includes the POLYON controlled-release fertilizer brand and related technology, patents and manufacturing capability in Sylacauga. More than 70 veteran team members from the landmark Sylacauga production facility have officially become Harrell's employee-owners.
"This is a great day for Harrell's," said CEO Jack Harrell Jr. "We've always wanted to own Polyon and finally the time was right for everyone. Now we're going to do everything we can to bring this superb technology to more customers and markets."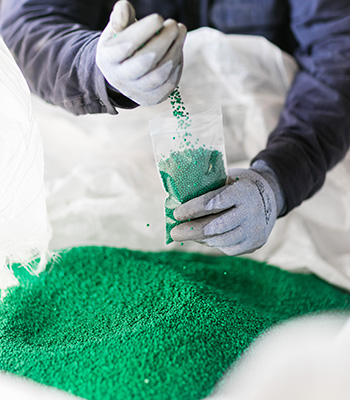 Harrell's is very familiar with the Polyon brand. It has distributed Polyon in the golf, lawn care, horticulture and specialty ag markets for three decades in a supply relationship that originally began with Pursell Industries in the early 1990s. "We've been so closely associated with it that folks mistakenly thought we already owned it," said Harrell. "Those little green BBs have been at the heart of our business and a big part of our growth and success over the years," said Harrell.
Polyon is a unique, highly efficient fertilizer with a reactive coating technology that diffuses nutrients based on soil temperature and coating thickness. It provides consistent, predictable, dependable feeding to turfgrass, ornamental plants and a wide variety of specialty crops.
"It's a foundational product for so many growers in so many markets," said Harrell. "We believe in a Balanced Approach agronomic philosophy that combines nutrition and plant protection and Ployon is the perfect start to the process."
Under the agreement, Harrell's will also custom manufacture Polyon for Koch Agronomic Services which will continue to hold exclusive rights to the brand in certain international markets.
Harrell's LLC, an employee-owned company founded in 1941, is a national leader in supplying innovative and effective agronomic products to professional growers. In addition to being one of the nation's largest distributors of specialty fungicides, herbicides and insecticides, Harrell's produces POLYON®, the industry's leading controlled-release fertilizer technology and other top-quality, custom blended fertilizers, specialty liquid nutrients, and wetting agents. Harrell's guarantees stringent quality control procedures, tight manufacturing specifications and careful selection of raw materials for each product that carries the Harrell's name.